Posts tagged
serviced apartments in mumbai
Every business traveler needs some place to stay when they are on trip. Your trip to the destination may not be a single visit because it is a business trip. You will have many benefits of choosing serviced apartments over normal hotel. The current article will discuss the benefits of choosing the serviced apartments Mumbai for your business trips.
Fully furnished
Serviced apartments can be an ideal solution for business trip due to many reasons. These apartments have furnished with everything to make your life comfortable. It just serves like home away from home and gives you best serviced accommodation. If your business trips are frequent to the location, these serviced apartments are ideal for short and long term stays.
Business activity
When you are working other business activity like meetings and conference in the new location, residing in the hotel will create a need to arrange all these facilities to conduct it smoothly. On the contrary, if you choose to go with the serviced apartment, it serves your multipurpose requirements. You can host your meeting with great ease and provide refreshments for your guests.
Security
Sometimes, your business trip may include some securing business documents. Though hotels also provide security to store the documents, you have to rely on the hotel staff regarding the same. On the contrary, if you choose to stay in the serviced apartment, you can ensure that you have provided enough security to your documents by locking them in safe place. It is in fact the safest place to carry your business activities in the new location because there will be no number of people roaming around your room.
Food
There is no need for you to compromise on your home food when you choose to go with these serviced apartments. Your kitchen will be stocked up and you can cook your desired hot food whenever you are feeling hungry. Most of the serviced apartments will have Wi-Fi connection too. You will have easy accesses to the internet whenever you need it. You will enjoy good benefit when you choose serviced apartment for business trip.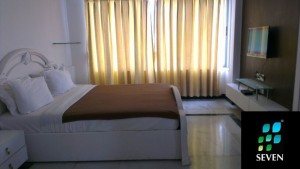 Mumbai is the city of dreams and it has something to offer to everyone. However, people feel apprehensive about the living conditions in the city and that is why those who travel to Mumbai on a professional capacity usually find themselves struggling to find a good accommodation. With the increasing space crunch and the bad living conditions, among all the problems serviced apartments in Mumbai come as a sliver of hope and offer something for the professionals to look forward to. The serviced apartments are places that offer comfort and relaxation from the hustle bustle of the fast life of Mumbai. There are a number of features that make the best executive apartments in Mumbai.
One of the biggest features is that any apartment that helps cut down on the travel time within the city is a home that is borderline excellent. Hence, it must be ensured that the serviced apartment in Mumbai is in a good location, in close proximity with the business hubs and centres of the city. It is also important to check the kind of facilities that are available in and around the apartments. Basic services such as chemists and grocery stores help when they are nearby. It is also essential to check the kind of amenities that are provided by the serviced apartment provider. With the growing competition, providers offer services such as housekeeping, meals on order and laundry services, these are the basics that need to be provided to someone who is on a visit to a new city and is at the place solely in a professional capacity.
With the changing times and advancing lifestyles, it is essential to make sure that the professionals that visit Mumbai get the right kind of treatment and a comfortable living experience. This would ensure that the professionals keep coming back for work and keep the economy of the state growing.